Unwrap the Joy of Sustainable Holiday Packaging
In the hustle and bustle of holiday preparations, it's easy to overlook the environmental impact of our choices. Christmas, a season of warmth and joy, often leads to an unfortunate increase in waste.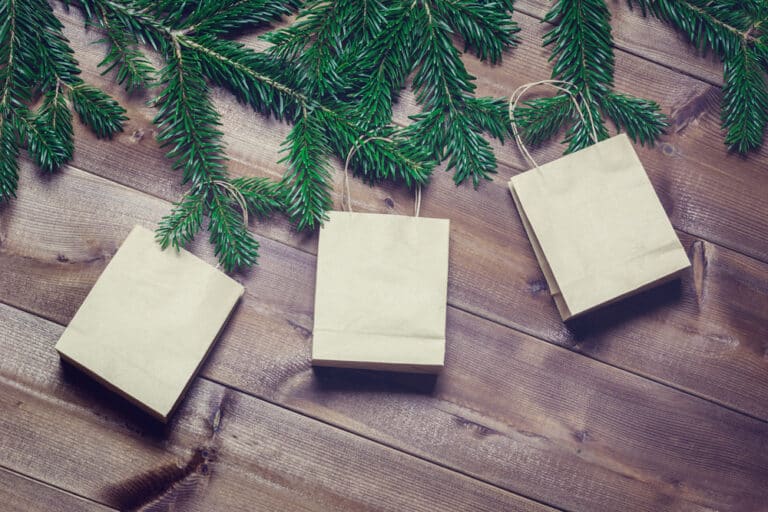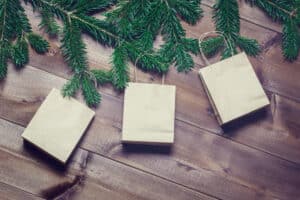 According to the Waste Reduction, Recycling, Composting and Solid Waste Program at Stanford University, the holiday season results in an increase in household waste by over 25%. This results in substantial environmental damage due to excessive dumping, particularly from non-biodegradable packaging materials.
The colossal volume of waste underscores the urgency of embracing sustainable practices, especially in the realm of holiday packaging.
The Alarming Reality of Christmas Waste
While festive, the holiday season contributes significantly to environmental degradation. Reports indicate that Christmas-related waste – including wrapping paper, packaging, and discarded decorations – amounts to millions of tons globally each year.
This staggering amount of waste underscores the urgency of adopting sustainable practices, especially in the realm of holiday packaging.
Choosing Sustainability: The Paper Bag Solution
Amidst the concerning statistics, there's a beacon of hope: sustainable holiday packaging. EnviroPackaging offers an extensive range of eco-friendly solutions, with paper bags taking the spotlight.
Paper bags have proven to be highly sustainable, providing an eco-conscious alternative to conventional plastic and non-recyclable materials. EnviroPackaging's paper bags come in an extensive array of colors, ensuring your holiday is not only green but also vibrant and merry. Learn how to choose the perfect eco-friendly Christmas Bag.
Enhancing the Festive Spirit with Holiday Tissue Paper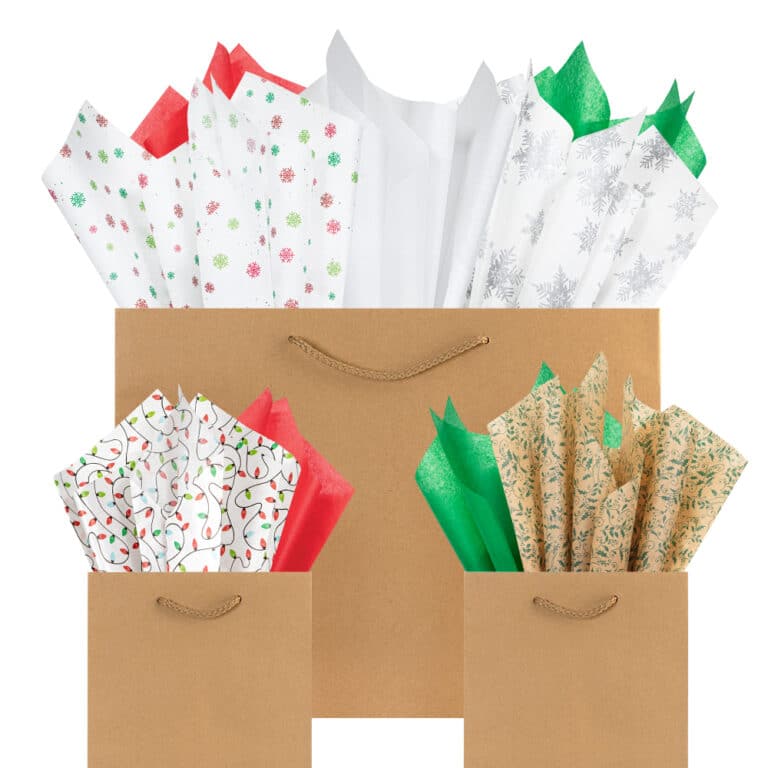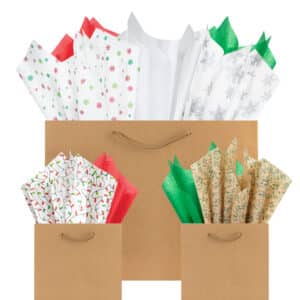 Pairing your bulk order of gift bags with our premium-quality holiday tissue paper adds an extra touch of thoughtfulness and cheer to your presents. Our customers appreciate our wide selection of festive tissue paper options. Whether you prefer whimsical designs, child-friendly motifs, or deluxe elegant patterns, there's a tissue paper style to suit every taste.
By choosing decorative holiday tissue paper from EnviroPackaging, you're not only adding aesthetic appeal to your gifts; you're also contributing to a more sustainable holiday season. Let us help you choose the right tissue paper for all of your sustainable gift giving needs.
Answering Your Sustainable Holiday Packaging Questions
In our quest for eco-conscious holiday celebrations, it's natural to have questions about sustainable packaging choices. We've gathered a series of frequently asked questions to provide you with insights and solutions. Discover how you can make a difference this holiday season while embracing the joy of green festivities.
Q: Are paper bags truly eco-friendly and recyclable?
A: Yes, paper bags are biodegradable and recyclable, making them an excellent choice for sustainable holiday packaging. EnviroPackaging's paper bags are crafted with the environment in mind, ensuring they leave a minimal ecological footprint.
Q: Is it expensive to be eco-friendly during the holidays?
A: No, not at all! Shopping our bulk selection, combined with our low price guarantee, can save you money and time. Find out how! 
Q: How can I ensure my holiday packaging is environmentally responsible?
A: Choose EnviroPackaging's eco-friendly solutions, including paper bags and holiday tissue paper. With our wide selection of sustainable options, you actively contribute to reducing environmental harm during the holiday season.
Q: Is EnviroPackaging the only provider of sustainable holiday packaging solutions?
A: While there are other providers, EnviroPackaging stands out with our extensive range of eco-friendly options, commitment to quality, and dedication to environmental conservation. Our diverse product offerings cater to various preferences and occasions.
Q: Can I customize the colors and designs of the paper bags and tissue paper?
A: Absolutely! We offer customization options that allow you to choose specific colors and designs for your paper bags and tissue paper. Personalize your holiday packaging to reflect your unique style and preferences. Contact us to learn more.
Q: What is the environmental impact of using paper bags and tissue paper?
A: Paper bags and tissue paper have a significantly lower environmental impact compared to plastic alternatives. They are biodegradable, recyclable, and often made from renewable resources, making them a greener choice for holiday packaging.
Q: How can I encourage others to embrace sustainable holiday packaging?
A: You can choose to lead by example! Share your knowledge about sustainable packaging options with friends, co-workers, and family. By raising awareness and showcasing the benefits of eco-friendly choices, you can inspire others to make environmentally conscious decisions during the holiday season (and all year long!).
Make Your Christmas Green with Sustainable Packaging from EnviroPackaging
This holiday season, let's make a collective effort to prioritize sustainability in our celebrations. By choosing wholesale eco-friendly Christmas packaging for the holidays, you not only contribute to reducing environmental waste but also spread the message of eco-conscious living.
Our wide range of paper bags and holiday tissue paper ensure all your holiday gifts are wrapped in care and consideration for the planet. Embrace sustainable packaging, and together, let's keep our Christmas green.