The holiday season is a time for joy, generosity, and giving. However, with the expenses that come with gift shopping, decorations, and festive gatherings, it's essential to find ways to save money without sacrificing the magic of the season. One often overlooked area where you can cut costs while making a positive impact on the environment is holiday gift wrapping. In this blog, we'll show you how to save money on gift wrapping while highlighting the value of eco-friendly packaging from EnvrioPackaging.
Eco-Friendly Holiday Gift Wrapping
When it comes to eco-friendly packaging, EnvrioPackaging offers an array of sustainable options that not only help you save money but also contribute to a greener planet. Our paper products are biodegradable and recyclable, making them a sustainable choice for conscious consumers. By opting for eco-friendly wrapping materials, you can reduce your carbon footprint while wrapping your gifts in style.
Not only do we offer eco-friendly options, but we also have a wide range of colorful choices in bags, tissue paper, and ribbon to make your holiday gift wrapping look wonderful. From vibrant reds and greens to elegant metallics and pastels, you'll find the perfect colors to match your holiday theme and add that extra touch of magic to your presents.
A Way to Save: Buying in Bulk
One of the most effective ways to save money on holiday gift wrapping is by purchasing packaging materials in bulk. At EnvrioPackaging, we provide the option to buy bags, tissue paper, and ribbon in bulk quantities, which can lead to significant savings. By buying in bulk, you'll have an ample supply of wrapping materials to last you through the entire holiday season and beyond.
Cost-Effective Gift Bags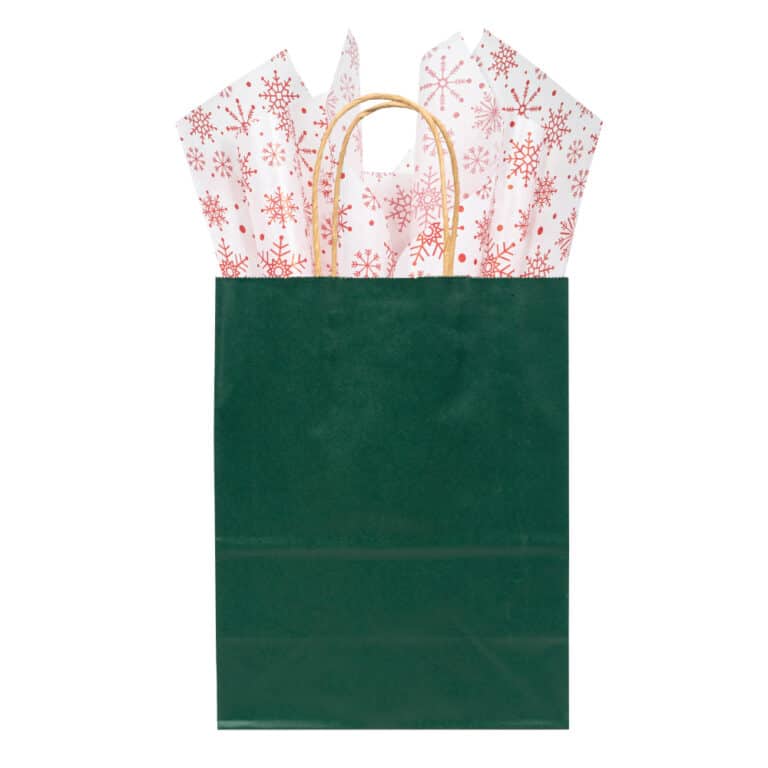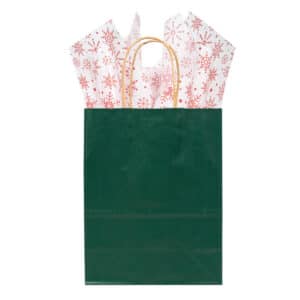 Gift bags are not only convenient but also cost-effective when compared to traditional wrapping paper. EnvrioPackaging offers a variety of eco-friendly gift bags in different sizes and styles. Our recycled paper Eurotote gift bags are especially sturdy and are not only reusable but also durable, ensuring that your gifts remain secure and presentable throughout the holiday season. These stylish bags come in a wide variety of colors, sizes, and with different handle options so you can find the right fit for your gifts in both size and appearance!
Also popular for holiday gift giving are our economical Kraft Paper Twisted Handle Bags. Available in the widest variety of sizes for packaging that we carry, these classic recycled paper bags are both sustainable and cost-effective! Natural kraft and white options are perfect for dressing up with colorful tissue paper or ribbons. They can also be easily decorated for that special DIY made-with-love look.
Ribbon Magic with Double-Faced Satin Ribbon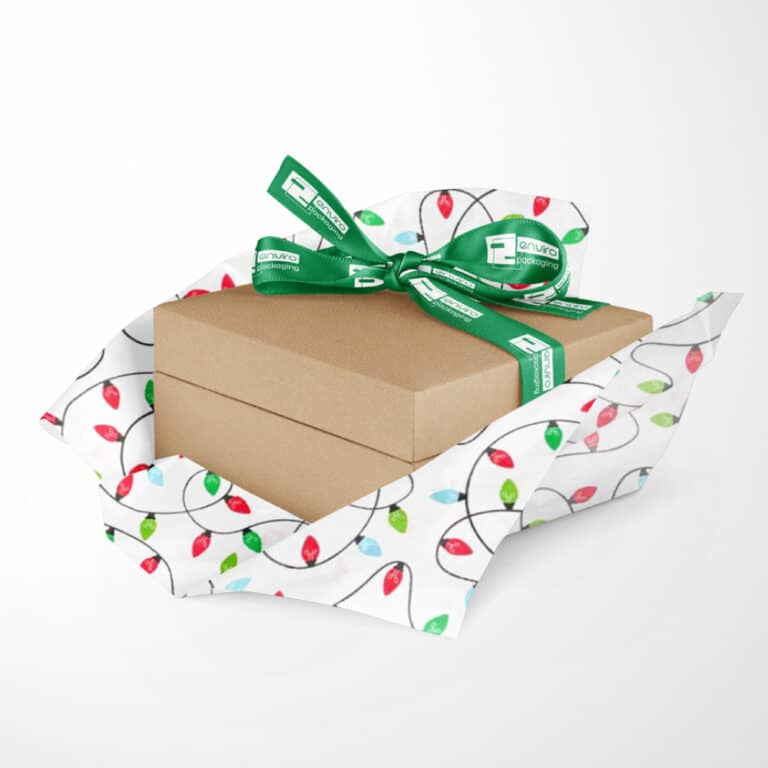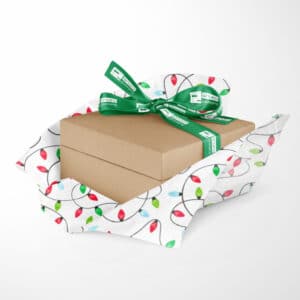 Are you using an economical simple or plain wrap for your gifts this year and want to dress them up? Satin ribbon can add a touch of elegance and charm to any holiday gift wrapping. EnvrioPackaging offers double-faced satin ribbon options that are both affordable and beautiful. With our colorful ribbon choices in a variety of widths, you can create lovely gifts without breaking the bank. Looking to boost the flair of your holiday gift wrapping even more? Click here to learn more about custom printing on our ribbon options and have your logo or artwork hot stamped right onto your holiday ribbons. We have a selection of popular foil colors including metallic gold, silver, and even rose gold, as well as satin and matte options.
Holiday Gift Wrapping Tissue Paper Classics
EnviroPackaging offers a range of eco-friendly tissue paper that is perfect for holiday gift wrapping. We carry a range of FSC certified tissue, ensuring that it comes from responsibly managed forests. With a wide variety of colors and printed holiday patterns available, you can create beautiful gifts on a budget with our affordable tissue paper. Not only is it environmentally friendly, but it also adds a touch of charm and elegance to your presents. Holiday themed tissue paper is the quickest and easiest way to dress up a gift bag. It is also a delightful packing material for any gifts that you might need to ship this year. Ensure your gifts are properly protected and shipped sustainably by wrapping them in festive tissue paper from EnviroPackaging.


Save Money & Enjoy Your Holidays
By saving money on holiday gift wrapping with EnvrioPackaging's eco-friendly and budget-friendly options, you'll have more funds available for your Christmas shopping. This holiday season, you can make a positive impact on both your wallet and the environment by choosing eco-friendly packaging from Envriopackaging.com. Our biodegradable and recyclable paper products, colorful options in bags, tissue paper, and ribbon, and the option to buy in bulk make it easy to save money while making your gifts look fantastic. With the extra funds saved on packaging, you'll have more resources to spend on Christmas shopping, ensuring that this holiday season is filled with joy and generosity. Make the smart and sustainable choice this holiday season with EnvrioPackaging.