Custom Tissue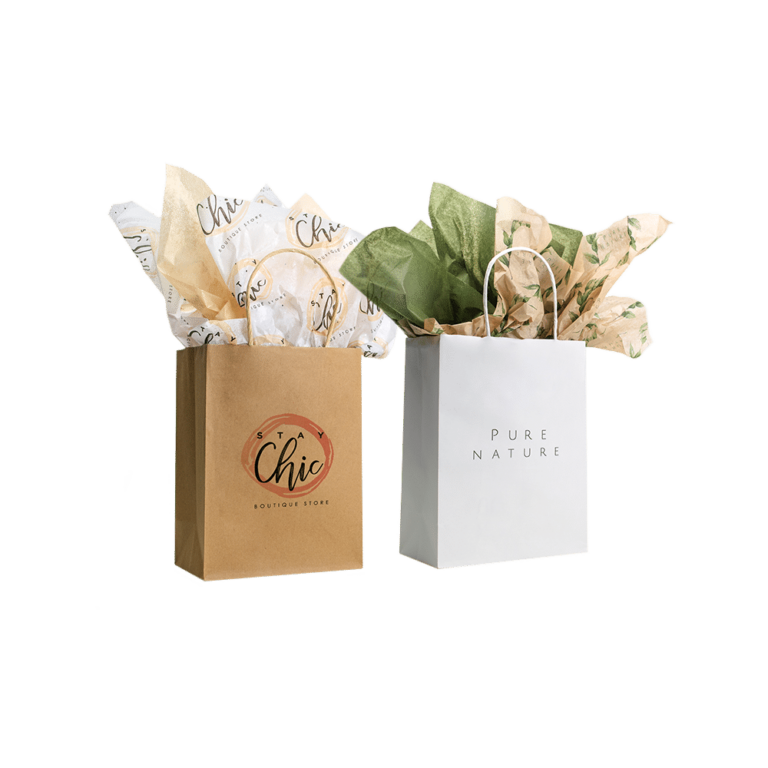 Custom Printed Tissue Exclusively For Your Brand
Add Your Logo or Brand
MOQ 10 Reams
Quality Made and Printed in the U.S.A.
Fully Recyclable
Imprinting Method PMS spot color
Custom Sizes & Thickness
KEY FACTORS TO CONSIDER
MINIMUM ORDER QUANTITY IS 10-100 REAMS VARYING BY AMOUNT OF PRINTING COLOR
| | |
| --- | --- |
| # OF SPOT COLORS | MOQ |
| 1 color imprint | 10 Reams |
| 2 color imprint | 20 Reams |
| 3 color imprint | 50 Reams |
| 4 color imprint | 70 Reams |
| 5-8 color imprint | 100 Reams |
This info applies to 20″ x 3″, 480 sheets per ream of custom printed tissue.
Other sheet sizes are available.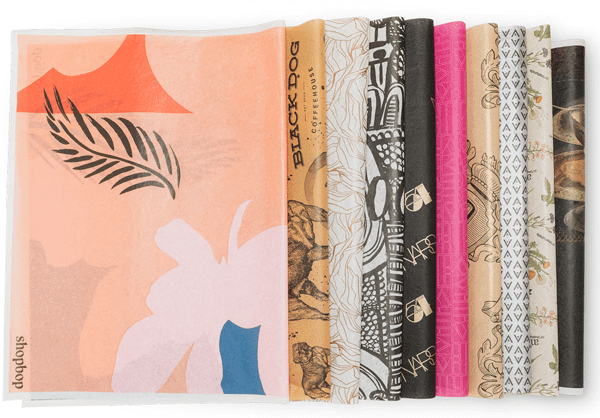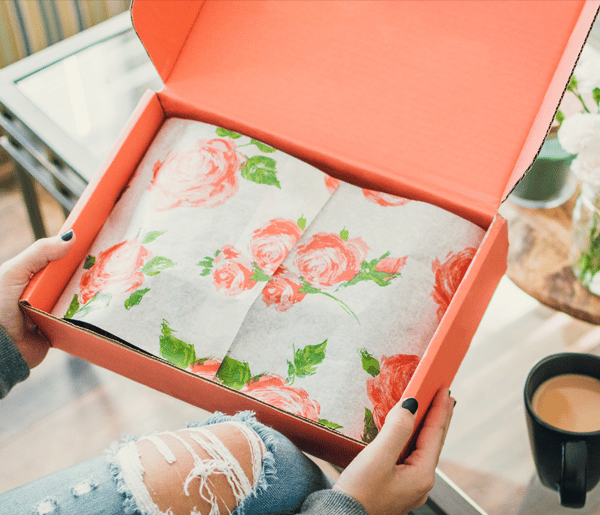 Custom Printed Tissue Quote info
There are several options you can choose from
The following information should be included in your quote request.
Tissue Color – White, kraft, or any stock color tissue
Desired PMS INK COLOR/S – Please indicate the PMS color required
Ink Coverage – Please indicate the ink coverage percentage
Sheet Size – Standard sheet size is 20″ x 30″. Please call for additional sheet sizes available
Artwork – All artwork must be submitted for review by the our art department.
A unique presentation can be created using custom printed tissue along with designer prints to match any occasion.
CHART OF DESIGN DIRECTION
When you send us a request for design directions, please make sure you specify which one you would like for your custom printed tissue paper:
A. 45 Degree Angle (Bottom to Top)
B. 45 Degree Angle (Top to Bottom)
C. Horizontal
D. Vertical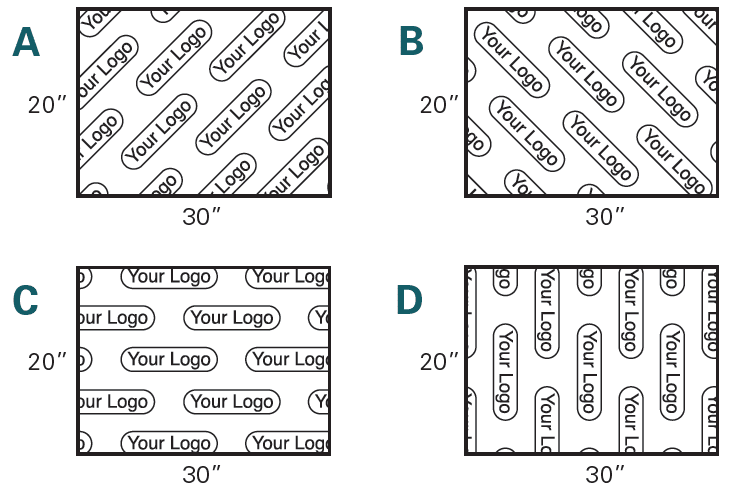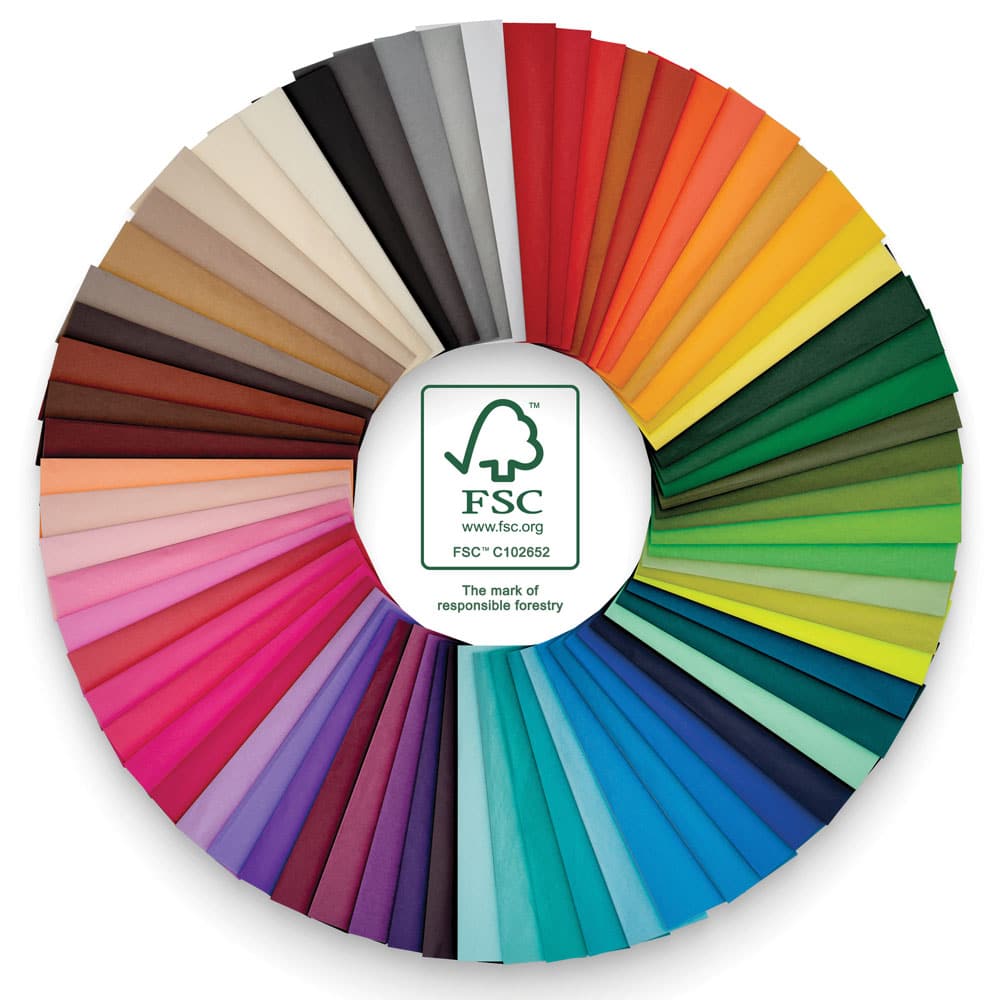 FEATURES OF THE PROCESS
Imprinting Method – PMS spot color.
Standard Lead Time – 7-13 weeks after proff approval (may vary by season).
Over/Under 10%
Pre-Production Sample Charge – Proofs and draw-downs are priced according to each job and are available only upon request.
The information necessary for us to provide you with a timely and accurate quote includes, but is not limited to the above mentioned information.
What Our Customers Say…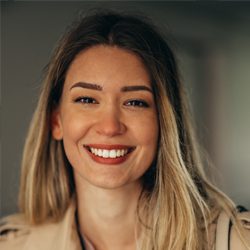 "I received great service, quick shipping, and the products were exactly what I needed!"
Laura B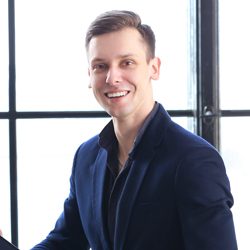 "We always receive fast, accurate, and timely service from the company!"
Carter F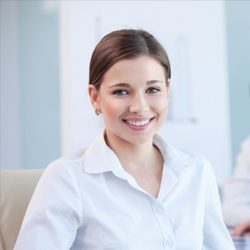 "It is nice to have samples. After seeing the samples, I was able to place the right order."
Keisha N
Frequently Asked Questions
Choose the type of tissue
Select your size according to your products
View available color options
Upload or Design your own.
How do I get a Printing Quote?
If you need a quote for a full custom Customizable Printed Tissue or you can speak to one of our representatives or please fill out the custom quote and they will get back to you within 24 hours. We are happy to guide you step by step and set you up with the best packaging available for your products. Get a Full Quote here
For ordering printing samples:
Be the first to get discounts and product news