If you are selling products online, you understand that product packaging plays an essential part in your business. One-of-a-kind jewelry deserves packaging that enhances the presentation of your goods. In the world of retail sales, in-person and online, presentation is everything! 
Successful entrepreneurs understand the value of packaging that enhances the unboxing experience a customer receives. A memorable unboxing experience is vital to a good branding strategy. Creating a unique impression by providing a great product, plus an unboxing experience, will encourage customers to shop with you more often. 
One other primary consideration is the eco-friendliness and sustainability of the packaging used. Consumers prefer purchasing jewelry from businesses with a commitment to environmentally responsible packaging. If you are here, sustainability is likely a part of your moral business code.
EnviroPackaging supports moving towards more reusable, recyclable, and sustainable packaging solutions. Green packaging is our focus! We have a range of options to meet your unique green requirements and budget.
Pro-Tips for sustainable packaging for your jewelry business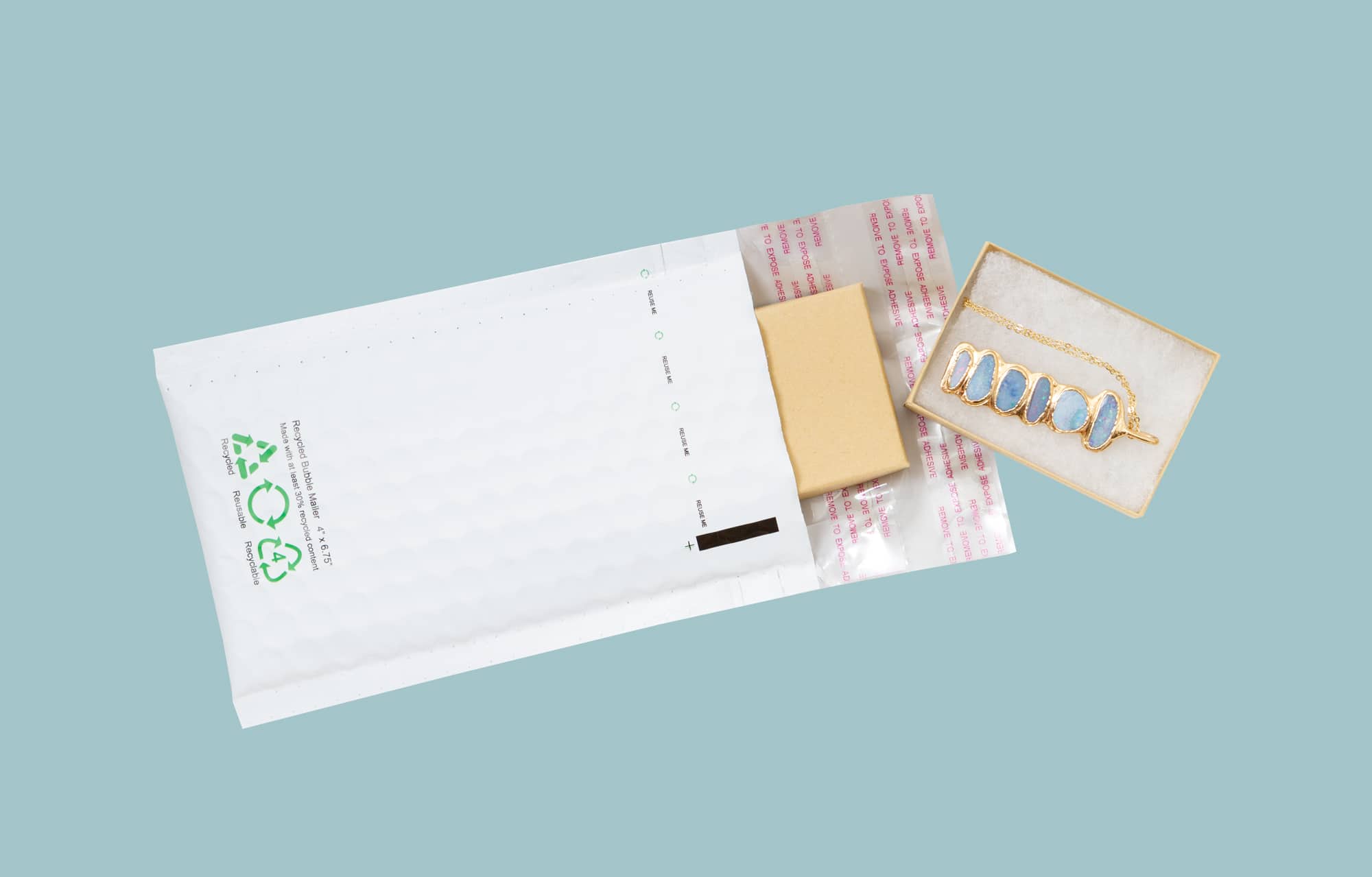 There is much room for personalization and creativity when turning to EnviroPackaging for your sustainable jewelry packaging needs.
We want you to have a clear view of all the packaging options available in a simple way. We have listed the options to help you find the most appropriate for your needs.
These bubble mailers are made with 30% recycled content and can be reused or recycled. They are tear, temper, and moisture resistant and lined with intuitive padding that protects your most delicate jewelry pieces. Also, they are lightweight and compact, which reduces packaging and shipping costs.
Get customized branding on these bubble mailers with your brand name! Click here to place an order today.
Padded mailers are constructed with 100 % recycled content and can be reused or recycled. Removing the adhesive strips turns them into naturally biodegradable items since they are made from paper.
The attractive appeal of their minimalistic design makes our padded mailers a favorite. They offer an earthy feel and are excellent choices for enhancing hand-made product presentations.
Our recycled kraft padded mailers are perfect for smaller and flatter items, less prone to damage during shipping. The package will keep its shape even if your small jewelry does not fill the entire mailer. 
Want to make an even stronger impression? Customize our padded mailers with custom printing that matches your brand!
Available in nine different sizes, these 100% Recycled Flap Seal Poly Bags are ideal for apparel and jewelry items. This is a great choice for small items that are not fragile. This bag will keep your product in place and protect it from dust, moisture, and scratches. It is an inexpensive option to ship items since the bag is very lightweight and takes less storage space compared to boxes. 
It is also made from 100% recycled materials, which help reduce waste that minimizes carbon footprint during production. 
You are now informed of all the options available to your business! Creating a packaging presentation that will make a unique impression on your customers will level your business up! Congrats!