In today's eco-conscious society, businesses are increasingly seeking sustainable alternatives for their packaging needs. In the realm of e-commerce, the conventional choices of Styrofoam packing peanuts and plastic bubble wrap are being replaced by eco-friendly solutions that not only provide reliable protection but also enhance branding. One such environmentally sustainable option is renewable, ethically sourced tissue paper. Thoughtfully chosen tissue paper not only enhances branding and the perception of your products, but also aligns with your commitment to the planet to reduce the consumption of single use plastics in your packaging. Let's look at the world of eco-friendly tissue paper, highlighting its versatility and its ability to support your business's branding while remaining environmentally responsible.
Click Here to shop now for the best and lowest-cost eco-friendly tissue paper options!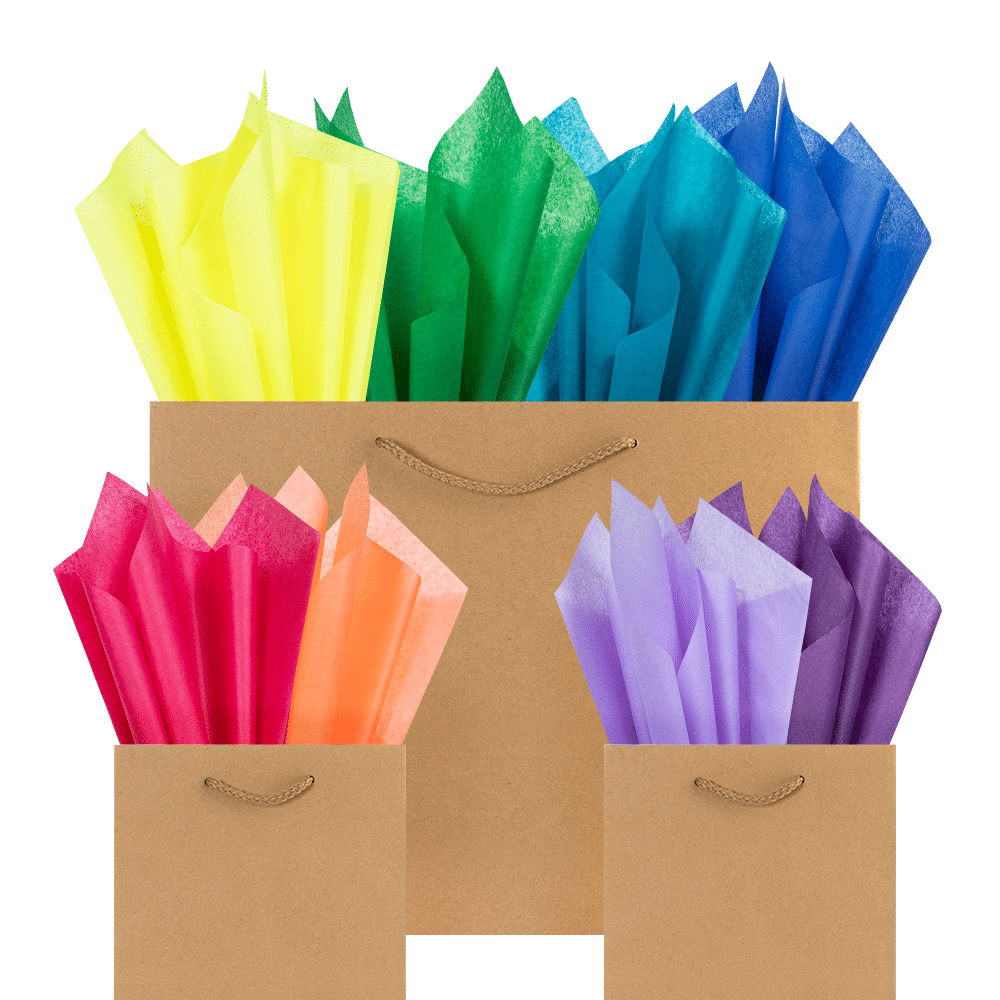 Sustainable and Recyclable
Eco-friendly tissue paper is a highly sustainable choice for packaging materials. Crafted from recycled paper or ethically and sustainably sourced wood pulp certified by the Forest Stewardship Council (FSC), it supports the conservation of forests, good stewardship of forested lands and forest communities. It also mitigates deforestation and habitat destruction. By opting for recycled tissue paper, you actively contribute to reducing the demand for virgin materials, thereby conserving energy and curbing greenhouse gas emissions. Also, this tissue paper is fully recyclable, closing the loop and fostering a circular economy. EnviroPackaging offers a diverse range of eco-friendly tissue paper options that prioritize sustainability without compromising on quality or aesthetics.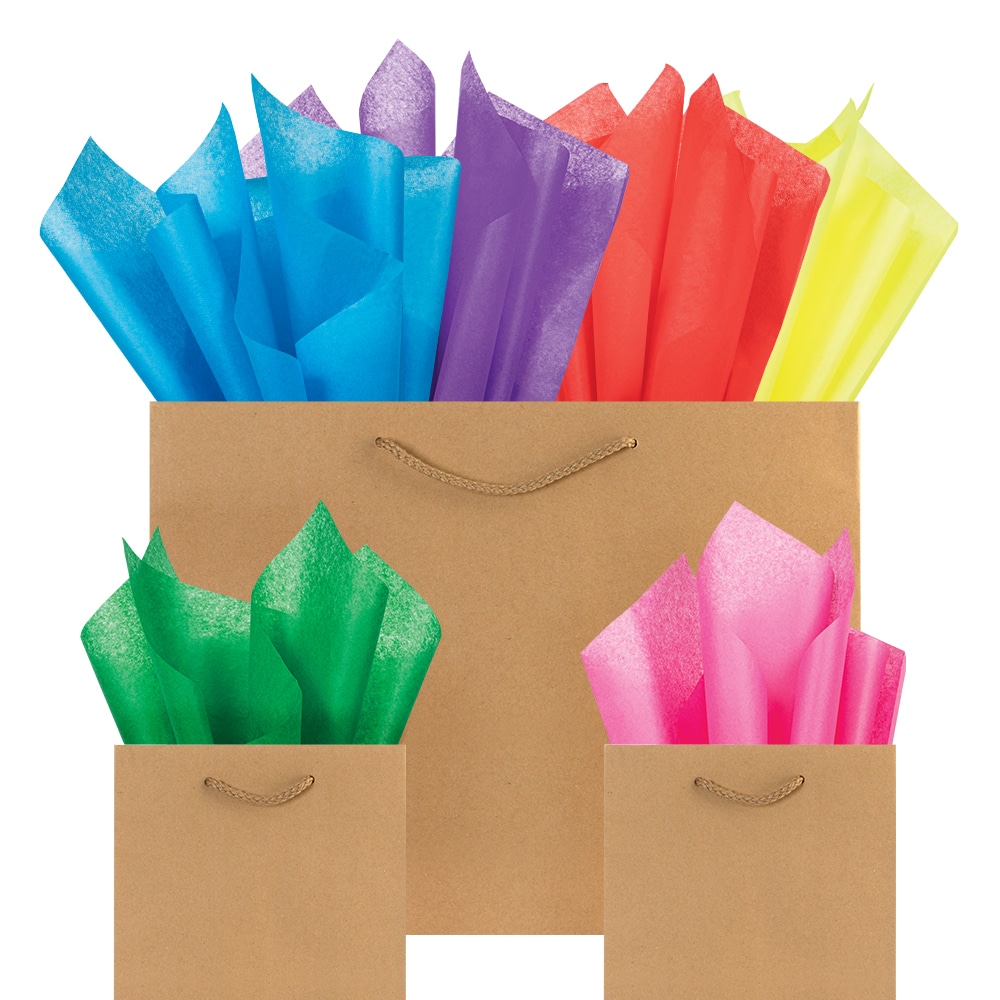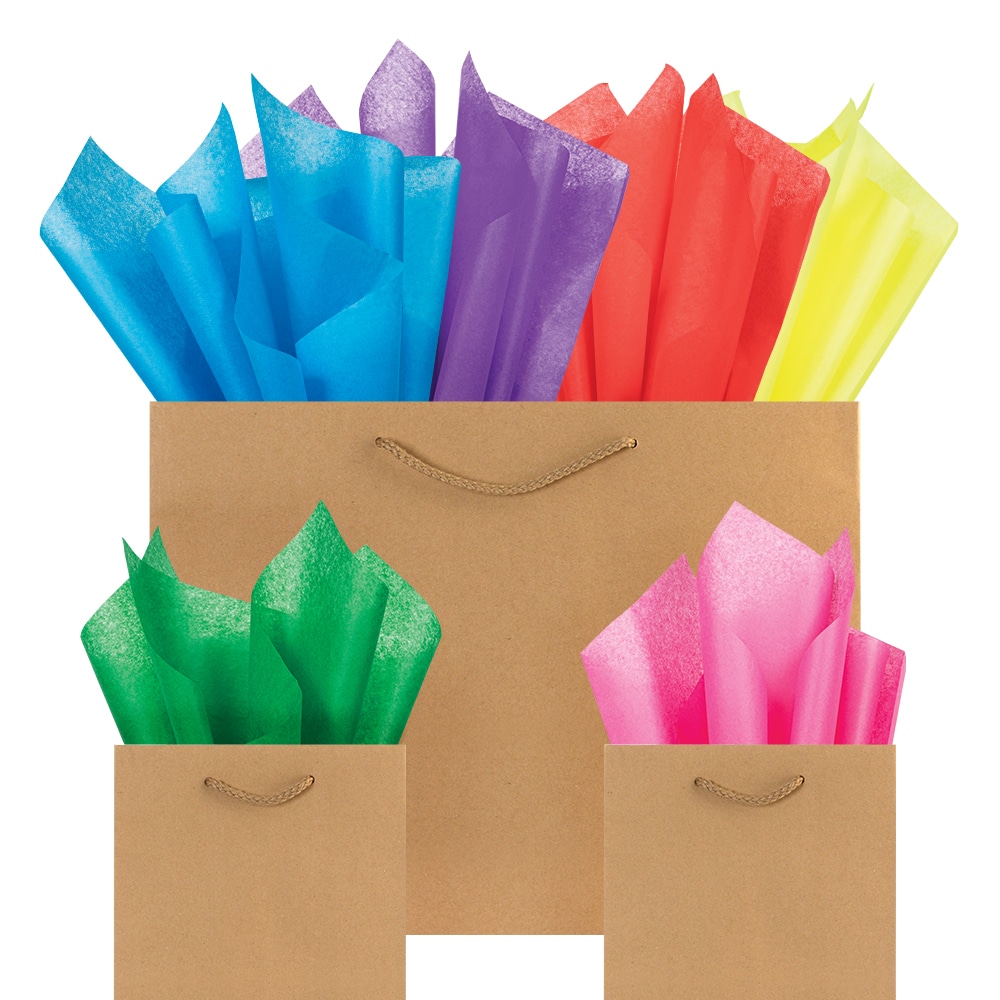 Tissue Paper: A Sustainable Styrofoam Alternative
While Styrofoam packing peanuts have long been used for their protective properties, their adverse impact on the environment cannot be overlooked. To overcome this, eco-friendly tissue paper emerges as an ideal alternative. It provides excellent cushioning and protection during shipping, ensuring the safety of your products. The soft texture and pliability of tissue paper allow for easy crumpling and wrapping around delicate items, creating a secure barrier against impacts. By making the switch to tissue paper, you showcase your commitment to sustainability while maintaining the highest standards of product protection.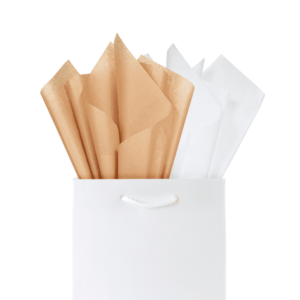 Enhancing branding and eco-friendliness, EnviroPackaging offers a wide array of tissue paper options to cater to various branding needs. Natural and White Tissue Paper exudes simplicity and elegance, complementing a wide range of product aesthetics. Printed and Specialty Tissue Paper, on the other hand, adds a unique touch to your packaging, with patterns and designs that align with your brand's image.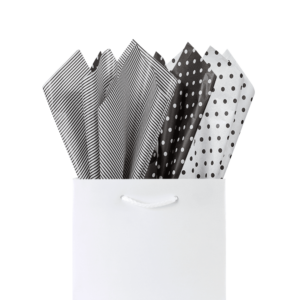 For those seeking a bold statement, Solid Color FSC certified tissue paper is available, allowing you to harmonize your packaging with your brand colors. Tissue Assortment Packs provide versatility, enabling you to experiment with different styles and create an unforgettable unboxing experience for your customers. EnviroPackaging offers several assortment options including popular solid colors, holiday assortments, pattern assortments, and harmonious collections of colors to suit seasons and style.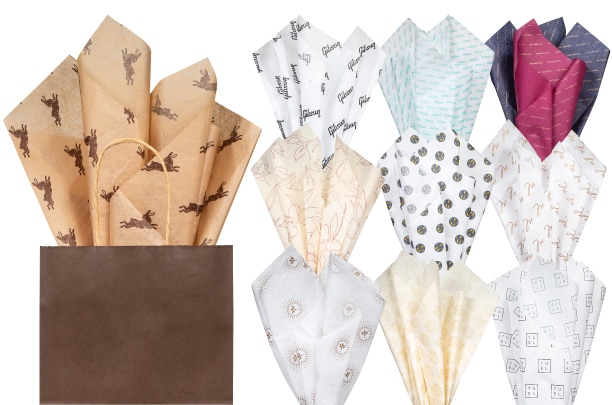 Additionally, you may opt for fully Custom Printed Tissue Paper. This option allows you to select a sustainable base paper and then have your branding, logo, or promotional artwork printed right onto the sheets. Custom makes an impact! It not only increases the perceived value of your products within but can affect opinions on the quality and increase overall customer retention. Many people save and reuse thoughtful, beautiful custom printed tissue paper, so this option can often add extra life to your packaging. EnviroPackaging's FSC certified custom printed tissue paper is made from materials that can be regenerated and are responsibly managed. And it is printed with water-based inks that dry and evaporate naturally and emit no organic compounds. This environmentally friendly solution is curbside recyclable, biodegradable, and available with recycled fiber.
By selecting the right tissue paper, you can reinforce your brand identity while showcasing your commitment to eco-friendly practices.
Answering Common Questions:
Is tissue paper eco-friendly?
Yes, tissue paper is considered eco-friendly, especially when it is made from recycled materials or FSC-certified wood pulp. It can be recycled after use, promoting a sustainable and circular economy.
What's the most environmentally friendly packaging material?
Eco-friendly tissue paper is a highly sustainable packaging material, as it is made from recycled materials and can be easily recycled after use. Its low environmental impact and recyclability make it an excellent choice for eco-conscious businesses.
What tissue paper is biodegradable?
Tissue paper of every kind is biodegradable. However, items marked especially as "biodegradable tissue paper" are made to break down more quickly than standard paper. Tissue paper made from natural and FSC-certified materials are generally more biodegradable. EnviroPackaging ensures that their tissue paper options align with sustainable practices, including biodegradability.
How long does it take for tissue paper to biodegrade?
The exact time it takes for tissue paper to biodegrade can vary depending on various factors such as the thickness and environmental conditions. However, tissue paper typically biodegrades relatively quickly, within a few weeks to a few months.
Eco-friendly tissue paper not only provides reliable protection for your products during shipping but also enhances your brand's image with its elegant appearance. EnviroPackaging offers a wide range of eco-friendly tissue paper options, including natural and white tissue paper, printed and specialty tissue paper, solid color FSC certified tissue paper, and assortment packs. By opting for these sustainable alternatives, you contribute to protecting the environment and promoting a greener future. To explore the best tissue paper options for your packaging needs, Click Here to embark on your journey toward eco-friendly packaging solutions.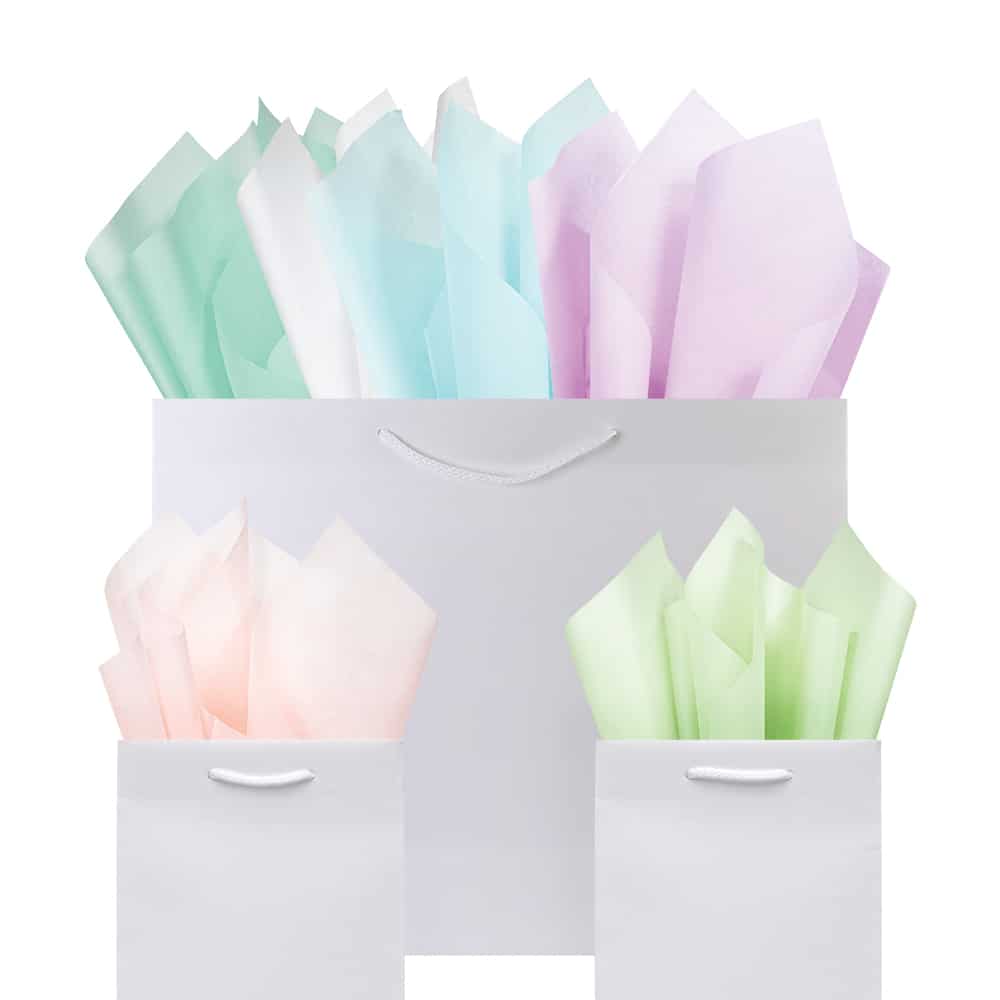 Contact Us Today for More on Custom Tissue Paper