"It's not easy being green" a wise frog once noted. However, when it comes to eco-friendly sustainable packaging choices, we're here to inform you to help make it a little simpler.
Modern technology provides a wide variety of options to package and protect your goods in preparation for transit. However, it isn't always clear at first glance whether a certain kind of packaging is indeed good for the environment or not.
We urge you to choose clean and green packaging that helps you to be a good steward of this world while also conducting good business at the same time. Our focus is on sustainability.

Defining sustainability
The essence of ecological sustainability for business is to be able to produce and grow while preserving diversity and balance in the environment. This balance is required to ensure the long term survival of humans, animals, plants, and the ecosystems of the planet itself.
In practice, maintaining that balance has proven to be difficult. Humans take up a lot of room and natural resources, and they often do not give the long term effects of that enough thought. There are many examples throughout human history where a civilization has damaged its own environment and seriously affected its own survival chances.
Focusing on sustainability allows us to take into account how we might live in harmony with the natural world around us, protecting it from damage and destruction. Even seemingly small steps, like choosing sustainable packaging for products, add up and make positive changes which help to ensure a better future for all.

What does "sustainable packaging" mean?
A significant problem with retail, food, and eCommerce businesses is the amount of packaging that is wasted. Years of reckless use of non-recyclable packing materials have resulted in mountains of rubbish accumulating in landfills, where they are slowly degrading and emitting harmful gases and chemicals.
Choosing sustainable packaging is one way that businesses of every size can succeed and help the environment. Let's look at sustainable packaging in depth to see how we can reduce our environmental impact. An evaluation of the life cycle is the first step.
Life-cycle assessment: what is it?
A key factor in measuring the sustainability of any material is its life-cycle assessment. This assessment looks at the full cycle of a product's life, from production to disposal. An accurate assessment is necessary to identify the potential environmental and social impacts of a given product or material.
A life cycle assessment looks at all aspects of a box or filler – from raw material extraction, manufacturing, and transport, to the end usage and disposal. All phases are carefully evaluated in terms of their potential impact on air pollution, water pollution, global warming, ozone layer depletion, land use, and wildlife conservation. This data helps us understand what we could do differently to reduce any possible negative effects.
Assessment is also important when considering alternative materials for any project as it makes it easier to compare their environmental performance too. By making an informed decision, we can ensure that our choices today have minimal to no adverse impacts further down the line!

Guide to sustainable packaging: How to reduce, reuse, recycle, and compost your packaging
The adoption of better packaging by local businesses and people is the first step toward a more sustainable economy.
Because there are so many kinds of packaging materials available, from extremely sustainable to eco-unfriendly, we've put together this guide to assist you in understanding your options and to help lessen your carbon footprint.
Let's start by examining the three basic classifications that packaging may fit into recyclable, reusable, and compostable.

Recyclable packaging
Recyclable packaging is becoming an increasingly important option, as it helps us to keep our consumption of natural resources and raw materials in check. Recycling packaging materials such as boxes, bags, wraps, fillers, and protective cushioning used in shipping helps to reduce waste buildup and to protect the environment. By choosing packaging options that are recyclable, and informing customers how and where the packaging can be recycled after use, we can help create a more sustainable future for our planet.

Reusable Packaging
Reusable packaging is becoming popular, and in some states, mandatory, as we move toward a more sustainable future together. With its growing usage, smaller businesses are now able to apply this environmentally friendly packaging more efficiently and cost-effectively.
Reusable packaging can be used as an alternative to the non-sustainable "convenience" of single-use packaging. Incorporating reusable items helps conserve resources and reduce waste by enabling businesses and their customers to use the same resources again and again. Furthermore, it has the potential to create savings in delivery and return systems while simplifying the process for both customers and businesses alike. This is often seen in eCommerce businesses that ship their products in mailers which have dual sealing strips, allowing returns to be shipped back in the same mailer.
Other common reusable packaging types include: sturdy paper eurotote bags, high-density plastic bags, non-woven bags, and cotton totes.
At EnviroPackaging, we want to foster a greener future. We take great pride in being able to incorporate sustainable materials into our reusable packaging. By doing this, we are not just creating high-quality, sustainable options, but also reducing our environmental impact on the environment.

Biodegradable and Compostable-Packaging
Thousands of plastic products are used every day around the world, and as a result, we now find ourselves in the middle of an environmental crisis due to the excessive use of single-use plastics. Biodegradable and compostable packaging are simple yet effective solutions to this crisis; not only do they cut back on materials that don't break down but they are also sustainable and environmentally friendly.
Simple and cost-effective, biodegradable and compostable packaging are viable options for both companies and individuals who are looking to preserve the environment. Not only that, compostable packaging can be used to create compost which can then be used as feed or soil improver in gardening.
Sustainable packaging types
Cardboard/Kraft Paperboard Boxes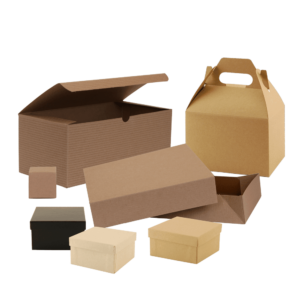 Over 90% of all products in the US are sent using cardboard, thus it seems obvious that it should be at the top of this list. There are many benefits to using cardboard boxes for packaging, including their remarkable reusability, wide range of uses, and cost-effectiveness. Plus, up to 100% of the materials used to make boxes can be recycled.
As long as cardboard boxes maintain their shape, they can be reused many times. Furthermore, they can be recycled up to 25 times before being composted or discarded.
EnviroPackaging carries a wide variety of gift boxes, apparel boxes, jewelry boxes, and gables boxes to suit your needs. Highly recyclable, and made from recycled materials, they're a great choice for your sustainable packaging. And we've made sure to stock an impressive selection of shapes, sizes, and colors for you to choose from, so you can protect the environment and have good looking packaging at the same time.
Paper Bags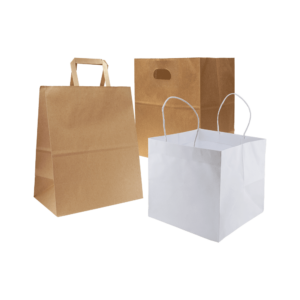 Paper bags are one of the most versatile options available for packaging. They're ubiquitous in retail shops, grocery stores, gift shops, restaurants, bakeries, and just about everywhere you can imagine someone needing to carry merchandise from one point to another!
Since paper is a renewable resource, it's an excellent starting point when choosing your sustainable packaging. It can be recycled many times, and when made into sturdy bags, they can be reused.
Paper bags can be as simple as flat merchandise bags, or as unique and stylish as EnviroPackaging's Gaia Eurototes, which are recycled, recyclable, reusable, and feature woven handles made from 100% paper!
Protective Packaging & Void Fill

Once you've found the perfect sustainable box or bag for your products, you'll need to choose an eco-friendly void-fill to complete the pack. To prevent your goods from rattling and breaking, you must cushion them. For filling the space between the product and the outer packaging, you can choose from a variety of options. Using void fill, you can secure the contents of your shipping box by sealing off the empty area. Paper is the preferred material since it is renewable, recyclable, and often reusable.
Rolls of thick kraft paper make for an excellent wrap for your goods. Kraft paper can also be shaped as a sturdy void-fill in place of less eco-friendly plastic bubble wrap.
Tissue paper that is FSC certified to be responsibly made is perfect choice for more fragile items. It can be carefully wrapped around breakable goods as protection, and also add to the presentation when you choose colors that match your branding. And you can always go for custom printed tissue to really enhance an unboxing or gifting experience for your customers.
SpiroPack is a unique void fill option that's one of our most popular packaging paper fill types. You can make your product packaging stand out from the rest and it's an eco-friendly packaging solution. This innovative swirl-shaped fill expands up to 10 times the original size, providing a lightweight, protective cushion for your products. To use, simply lift and shake to expand the spiral shape, then fill your package. If you or your customers aren't fans of paper shreds, which can be messy and sometimes dusty, and sheets of flat tissue paper don't quite suit your needs, SpiroPack is an option that's the best of both worlds!
Inner Packaging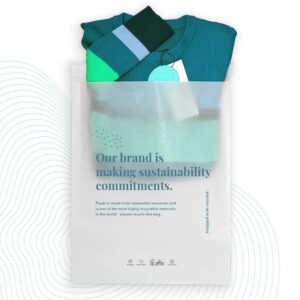 Some items require more than just a box and some tissue for packaging for shipping or sales. To keep items like apparel separate, separate inner packaging is often used. Commonly, this comes in the form of a single-use plastic bag, since they're cheap, and see-through, so items inside can be easily identified in warehouses for packing. If plastic is a must for your items, look for flap seal bags which are made from recycled materials, and that can be recycled after use.
If you're looking to step up your game and commit to going plastic free, EnviroPackaging offers the innovative all-paper Vela Tissue Bags for your inner packaging needs. These transparent bags are changing the way items are being transported around the world by replacing plastics with sustainably manufactured paper. They're made from recycled material, are curbside recyclable, and are sturdy enough to be a viable option for many businesses that want to make a difference for the planet.
Reusable plastic totes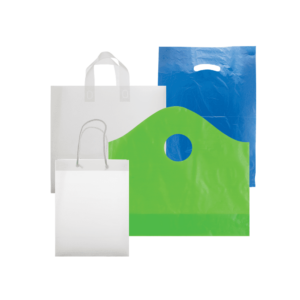 Looking to reduce waste but still need to utilize plastic bags? Although quality reusable plastic tote bags initially cost more, their cost decreases with reuse. The same is true of their sustainability; provided they have a long lifespan and are reused many times.
EnviroPackaging offers a variety of reusable plastic totes that are made with recycled materials including:
All these great reusable options can also be custom printed with your company logo, artwork, or messaging to encourage customers to keep the tote bag and reuse it.
Reusable Non-Woven Totes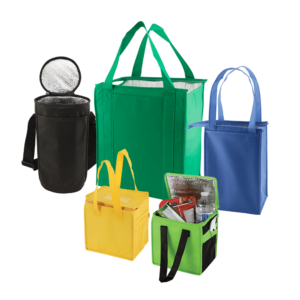 Reusable Non-Woven Totes are becoming common in grocery stores and are highly popular for tradeshows. These tote bags are sturdy, washable, often colorful, and can be made with all sorts of pockets, closures, and linings to suit a wide variety of needs.
Non-woven totes can be made from recycled materials and have excellent life-spans for reusability. It's no wonder that they're one of our most popular items. The versatility of the material allows it to be made into totes for:
Lunch Bags
Grocery Totes
Garment Bags
Growler Bags
Insulated Bags
Book Bags
Wine Totes
And so much more!
Mailers: Recycled, Recyclable, AND Reusable!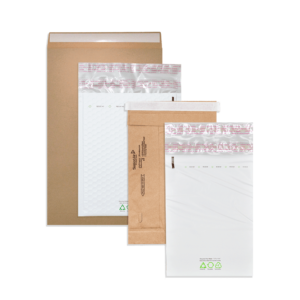 Mailers are designed to protect your products. Throughout their shipping journey, this packaging will protect your products from scratches, bumps, and dings. To increase sustainability, look for mailers that are made from recycled materials and can be recycled after use. If you run a business that processes returns, also look for mailers which incorporate dual seal strips so that they can be reused as well.
Mailers can be made from paper and from various plastic materials. An all-paper mailer, while generally not as long-lived and reusable as a poly mailer, is often biodegradable, so it won't stick around quite as long, and is a great choice for businesses looking to reduce plastic use altogether.
EnviroPackaging proudly carries a variety of eco-conscious mailers like:
Textiles made from organic materials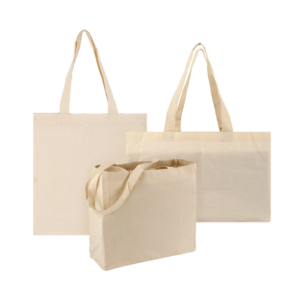 Organic ecological textiles are the answer to both reducing business waste and providing value to customers. By investing in natural, sustainable materials, businesses can lower their environmental impact while still maintaining the highest quality of products. Not to mention, customers benefit from ecologically-minded packaging that is more durable and effective when it comes to transportation and delivery.
Organic textiles come in a variety of shapes and sizes, making them perfect for custom orders or one-off projects. Plus their versatility means they can be reused multiple times, further adding value to the customer's experience while decreasing wasteful packaging in the supply chain. With organic ecological textiles as part of your business model, you can empower your brand with sustainability on a whole new level!
The organic ecological textile market is booming in an era when sustainability is becoming increasingly important. By being multi-use, they not only reduce waste across the supply chain but also provide quality packaging materials to your customers. In addition to their beautiful design, excellent durability, and non-toxic properties, they are made from organic materials like cotton. You can leave a positive impression on your customers by using organic ecological textiles in your packaging.
Cotton tote bags are durable and spacious enough to store everyday essentials, groceries, or tradeshow goodies. There is no doubt that these totes are a great giveaway! They're a classic choice for any brand.
Cotton muslin pouches are another eco-friendly option. These bags add an organic look to your branding and come in a wide variety of sizes.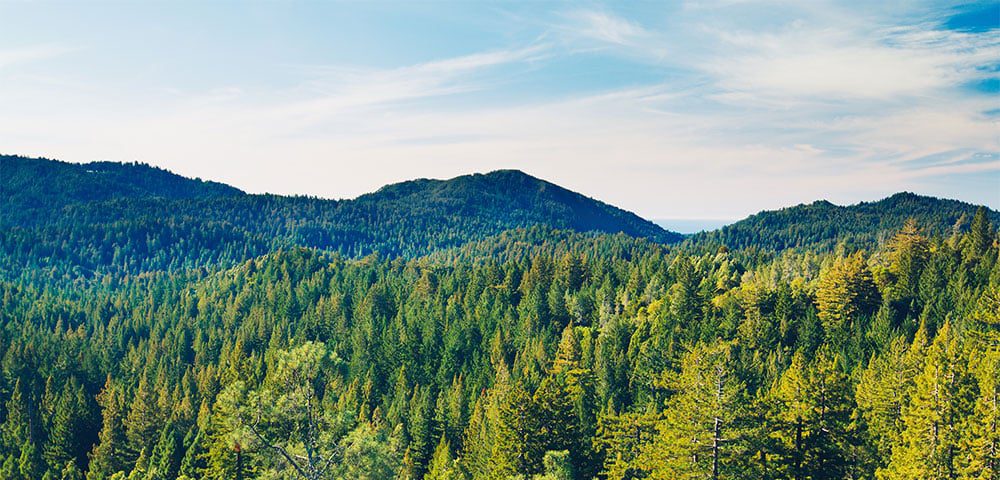 Go forth, and be sustainable!
We hope that you're just as excited as we are about making the best choices in sustainable packaging. The transition can be a challenge, especially if you've previously invested in old style options which you're finding no longer suit your eco-conscious goals. But at EnviroPackaging, we are constantly working to curate the best packaging solutions that not only meet your needs and budget, but also move us all a little bit closer to a cleaner, greener world.