What is a Eurotote Bag?
Eurototes are high-end paper shopping bags with strong bottoms and specialty handles. Heavyweight paper construction makes for durability and luxury. Eurototes are highly sustainable, eco-friendly shopping bags that are ideal for retailers and businesses who are wanting to portray a high-quality look with their packaging that is beautiful enough to keep and is strong enough to hold heavier items.
Eurototes Finishing Options
The best looking bag certainly comes with the best options. Enviropackaging's stock Eurotote bags are available with the following finishes:
Non-Laminated
Laminated
High Gloss
Matte
Color Tinted
Texture Embossed
Natural Kraft Paper
White Kraft Paper
Eurototes have a stronger construction and composition than the average cheap paper shopping bag. This also means they are more suitable for reusing, increasing their sustainability as a packaging choice. High-end retailers and those who are selling heavier items like wine, home decor, candles, etc. often choose to use eurototes in their packaging. Additionally, the top edges of this type of bag are also folded over and reinforced for extra durability.
Handles
The most immediately noticeable feature of a eurotote that sets it apart from other bags is its handles. These bags usually feature soft loop handles, as opposed to stiff upright handles. The soft handles are either threaded through eyelets in the bag or through the reinforced fold-over tops, and are not only more beautiful, but also stronger than other types.
A wide range of materials are available for use as eurotote handles. The most common are rope-like, made from a cotton blend, like those in our Natural Kraft Eurotote Bags.
Another beautiful high-end option for handles is ribbon. Our Tinted Kraft Eurototes sports a woven cotton ribbon that matches the bag for a seamless look. Additionally, wide satin or textured ribbons are another great option for handles on eurotote bags and are available for fully custom orders.
Recycled Materials
All of the eurototes that Enviropackaging carries are explicitly made from recycled materials. Many have a pre-printed logo on the bottom side showing the post-consumer-recycled content letting your customers know you're doing your part by sourcing sustainable packaging. Some of these paper shopping bags are specifically manufactured from the start with the environment in mind and are purposely made with materials that are not only recycled, but fully recyclable as well.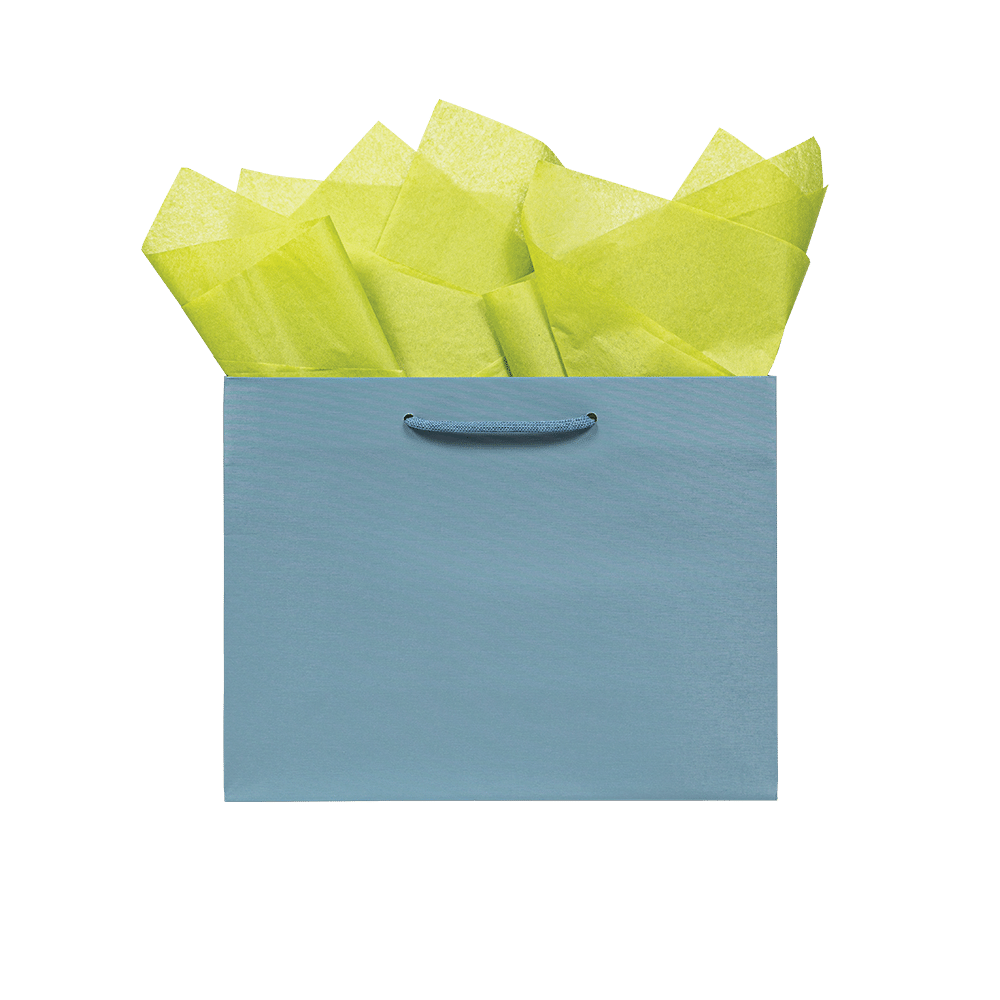 Our Gaia series of eurotote bags are the best example of this type of eco-friendly packaging. Gaia eurototes are made with 100% paper materials, including 100% paper handles and non-laminated paper, and are fully recyclable. These bags are beautiful, sustainable, and can be reused many times.
Sustainability
Our favorite eco-friendly feature of eurotote bags is that they are more durable and high-quality. These bags are strong enough to be reused many times, and also nice enough that customers actually want to keep them. Every time an end customer reuses their eurotote bag instead of buying and throwing away another bag, it prevents packaging waste. Some cities even require that shopping bags meet a certain paperweight in order to be considered reusable, and most eurototes will meet that requirement easily, making them a top choice in sustainability for packaging.
Eurototes Customization
Enviropackaging offers beautiful blank stock eurotote bags but can also custom print them in-house with your logo or design of choice! Our in-house minimum order is just one case, and we offer some of the highest quality imprinting available.

Choose from luxurious foil hot-stamp printing in a variety of finishes and colors, or our specialty full color "Color Magic" option for more detailed CMYK prints applied by heat press. Branding your eurotote bags gives your customers a personalized experience, and nets you high-end marketing benefits for your business. Pair that with Enviropackaging's eco-friendly options, and it is a perfect match that helps the planet. Simply click the "Personalize This Bag" button on any of our product pages to get a quote on custom printing for your favorite eurotote bag.
Love our eurototes but have something a little more custom in mind? Enviropackaging has you covered! Get a quote today for FULLY custom bags in any size, color, finish, or handle type you can dream up! Let us help you make your sustainable packaging wishes a reality and Create Your Own Bag today!

Custom sizing, full-color all-over printing, and more! 10k minimum order.