Custom Retail Packaging 101: The Complete Guide
Every retail business must carefully consider how to package its products for sales. With so many options now more easily available than ever, it can be a daunting task to start choosing which packaging is right for your business. EnviroPackaging is here to help! Here we have information and tips on choosing packaging. Tips that not only boosts ROI and makes your products look great but is also environmentally friendly.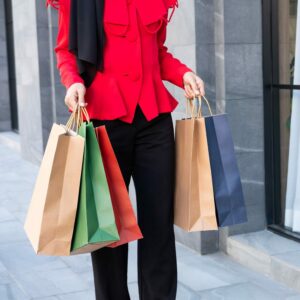 Often, customers are first being introduced to your product through the packaging. This could be how the items are sitting on display, or how they are packed and delivered to the final user. Take this opportunity to start making a good first impression. Choosing premium materials for packaging will appeal to buyers and help products fly off the shelves. Instead of sitting and being lost among the crowd.
Also, choosing sustainable materials for packaging, and touting the choice on the packaging itself, is a fantastic tactic. Especially when your products are being displayed alongside any competition. In fact, according to a recent study, "60 to 70 percent of consumers said they would pay more for sustainable packaging".
What is Custom Retail Packaging?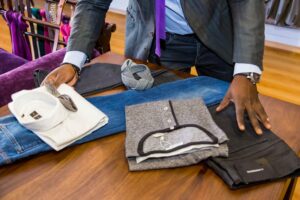 The main purpose of the retail packaging for your business will vary depending on whether the goods are being sold online or in a physical store. Packaging for goods being sold in physical stores conveys the quality of your products to the customer, the values of your business, and it instills brand recognition.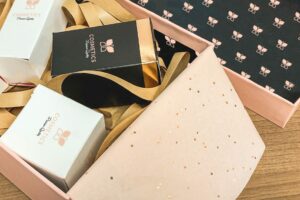 In contrast, products being sold online will have already been chosen by the customer, so the main function of their packaging will be more for padding and protection to keep them safe during transit. Thoughtful packaging for online retail sales not only ensures that customers get what they want safely, but it affords an opportunity to improve the customer's experience and motivates them to make additional purchases and to tell their friends.
Brand Presentation and Retail Packaging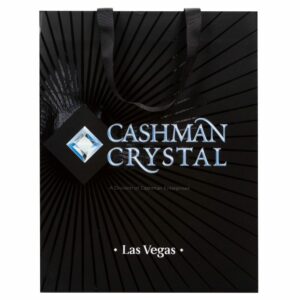 Branding and marketing are important functions of packaging for retail sales. Items like store shopping bags with beautiful hot stamped foil logos not only serve as a special touch for the customer but are also a fantastic "brand ambassador" for you as customers are walking around with your flashy bags for others to see. Shopping bags are an incredible vehicle for marketing. By choosing high quality bags like the Eurotote style of bag and invest in additional packaging like colorful or even Custom Tissue Paper, your products are being packed for the customer to look and feel like a gift they are giving themselves. High-end retail companies know this well and are using these items in bulk to maintain their image and boost the positive perception of their brand as quality and luxury.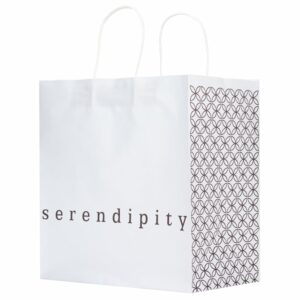 Further boosts to presentation and customer appeal include choosing beautiful custom packaging that is also sustainable. EnviroPackaging offers many of these fantastic options with eco-friendly benefits. Our Retail collection has a wide range of items that are made from recycled materials, are recyclable, and are biodegradable. Many are strong enough to be reusable and beautiful enough for customers to want to keep. Options like packaging made from recycled kraft paper like our Natural Kraft Eurototes or EnviroBand are also immediate signals to your customers that you care about the planet. Utilizing natural materials in your brand presentation is great for incorporating your values into your packaging marketing.
The Benefits of Custom Packaging
Because fully custom packaging may not at first seem like an absolute necessity, it helps to understand why and how it is successfully used by so many retail businesses.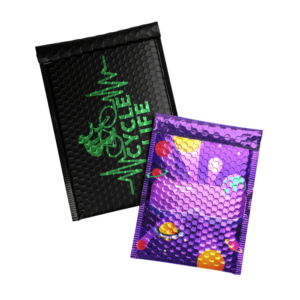 While shipping products in a cheap mailer or other generic packaging might seem like a good idea in the short term, investing in specialized packaging is planning for long term success. It is no longer acceptable to treat packaging design as an afterthought given the growing number of brands available for competition, and the fact that a majority of consumers are greatly influenced by a product's packaging when making a choice. Making a statement is crucial.
Get a Quote on Custom Mailers Here
Both the retail seller and the customer care about how the packing is being received by each party. Receiving goods in interesting or distinctive packaging enhances the purchasing experience. Customers are more inclined to make further purchases, bringing you another devoted client.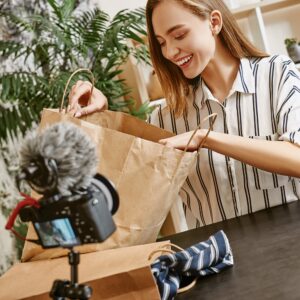 Additionally, consumers are more apt to snap and share photos or videos of products with customized packaging than those without. This is important for promoting your business. This kind of user-generated material is legitimate marketing that enhances the trustworthiness of your brand. Start developing an appreciation for the impact of a social post.
You can increase the price of your goods if you are utilizing customized retail packaging. Customers are more likely to pay more for the product as a result of the improved customer experience because they are receiving more value than just the product. Your business will significantly profit from this.
Factors to Consider When Choosing Packaging
Knowing the variables before you begin creating your packaging will provide you with guidance for your final selections. All the following considerations are important to start keeping in mind:
Size of items to be sold
Weight of products (how thick/sturdy does the packaging need to be?)
Padding or protection needed for transport of items
Ways in which the packaging might be reused
Available recycling programs for used packaging
Trends in your specific market
The brand-ability of the packaging (what types of printing? what colors are available?)
The volume of packaging you will need and how often you will reorder
Ease of working the cost of packaging goods into your pricing
Ways in which you can communicate to your customers that the packaging you have chosen is eco-friendly
How your items will be displayed in retail stores
Ease of storage of your packaging
Personalize Now or Design Fully Custom Packaging
EnviroPackaging's expert packaging team is here to guide you through making the best choices for your retail business. Are you looking for blank stock Retail Packaging that's versatile and simple that you can embellish yourself? Or are you seeking something from our specialty lines which we can imprint for you with the highest quality in the volumes you need? Or perhaps you're needing from-scratch fully custom retail packaging made to fit your products exactly and to stand out in a crowded marketplace? We have you covered!

Custom sizing, full-color all-over printing, and more! 10k minimum order.